Welcome to the series  Posts from Your Archives, where bloggers put their trust in me. In this series, I dive into a blogger's archives and select four posts to share here to my audience.
If you would like to know how it works here is the original post: https://smorgasbordinvitation.wordpress.com/2019/04/28/smorgasbord-posts-from-your-archives-newseries-pot-luck-and-do-you-trust-me/
This is the final post from author Christa Polkinhorn who has been blogging since 2010.. This gave me access to her extensive archives. For this final post I am sharing Christa's visit to Costa Rica in 2018 and if you explore her archives from May 2018 onwards you will find the other posts in the series on her blog
Costa Rica, May 2018, Part 1 by Christa Polkinhorn
My friend Diane and I went on a nine-day-long tour through Costa Rica. It was our first time in this country that everybody we knew, who had been there, raved about. They were right; it is a truly magical place. Interesting exotic animals–sloths, monkeys, bats, just to name a few–friendly warm people, excellent food, gorgeous landscape, jungle, beaches, cloud forests. It was an intense time and I'm still trying to absorb the many impressions.
Let's start with some pictures. Since my flight from Los Angeles and Diane's from Cincinnati arrived several hours apart, we were met at the airport separately by a representative of the travel agency and driven to our first hotel in the Arenal area that was three hours away. Passing through customs was a breeze with the help of our "welcome person" who taught us three words we needed to remember during our vacation. Sadly, I forgot two of them but the most important one stuck with me: Pura Vida, which is used everywhere and means something like "Life is good."
On the way to our hotel, Mountain Paradise (and a paradise it was, indeed!) next to the town of Fortuna in the Arenal area, I had my first cup of the famous Costa Rican coffee at this little coffee shop/gift store.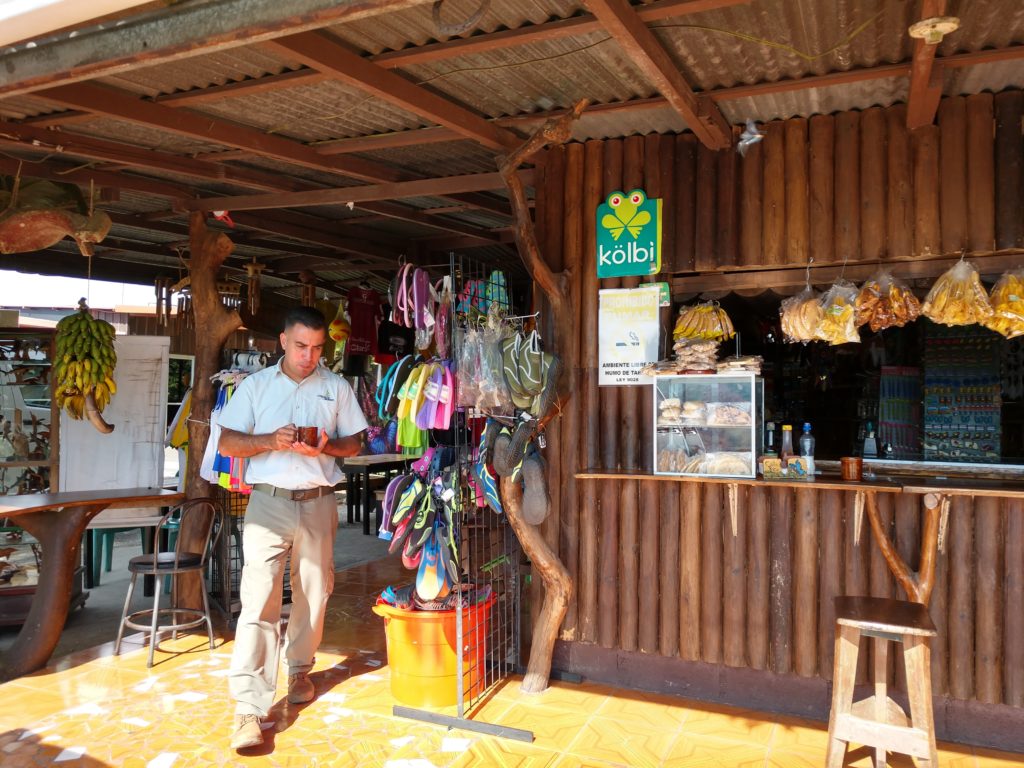 Our hotel in Fortuna was a real gem, situated on a hill overlooking the gorgeous landscape and the Arenal volcano in the background. We had our own casita. There was a swimming pool with wet bar and a waterfall on the property. In fact, our bathroom had both a normal shower and a waterfall shower, which was more fun than practical, but we truly enjoyed it.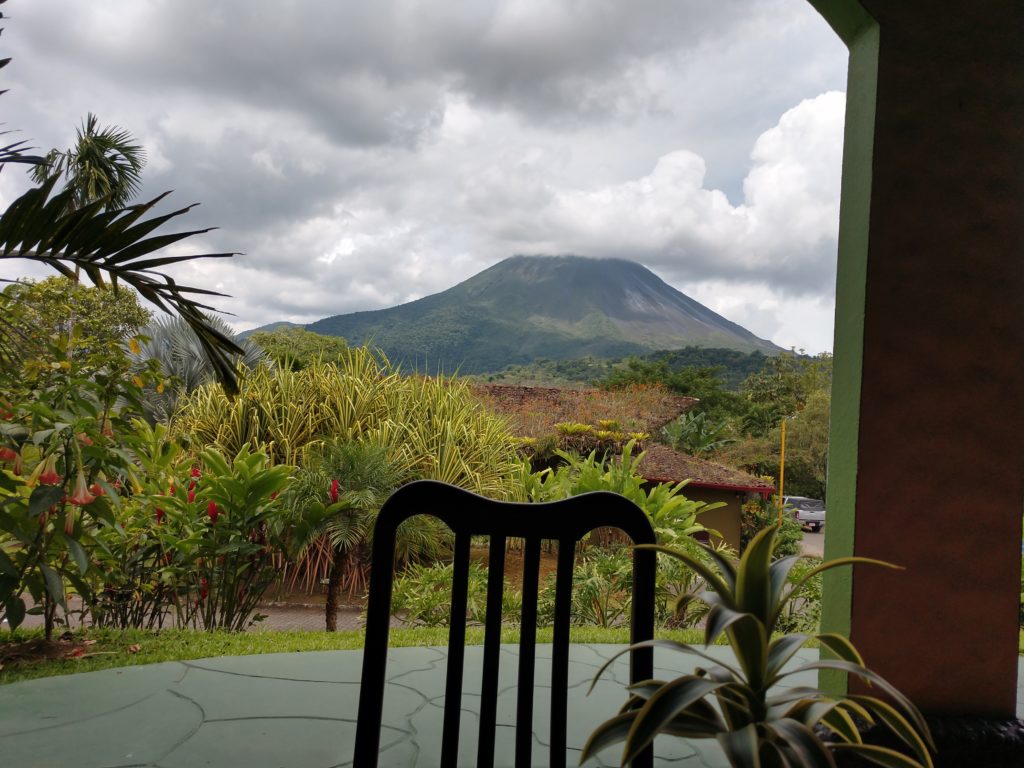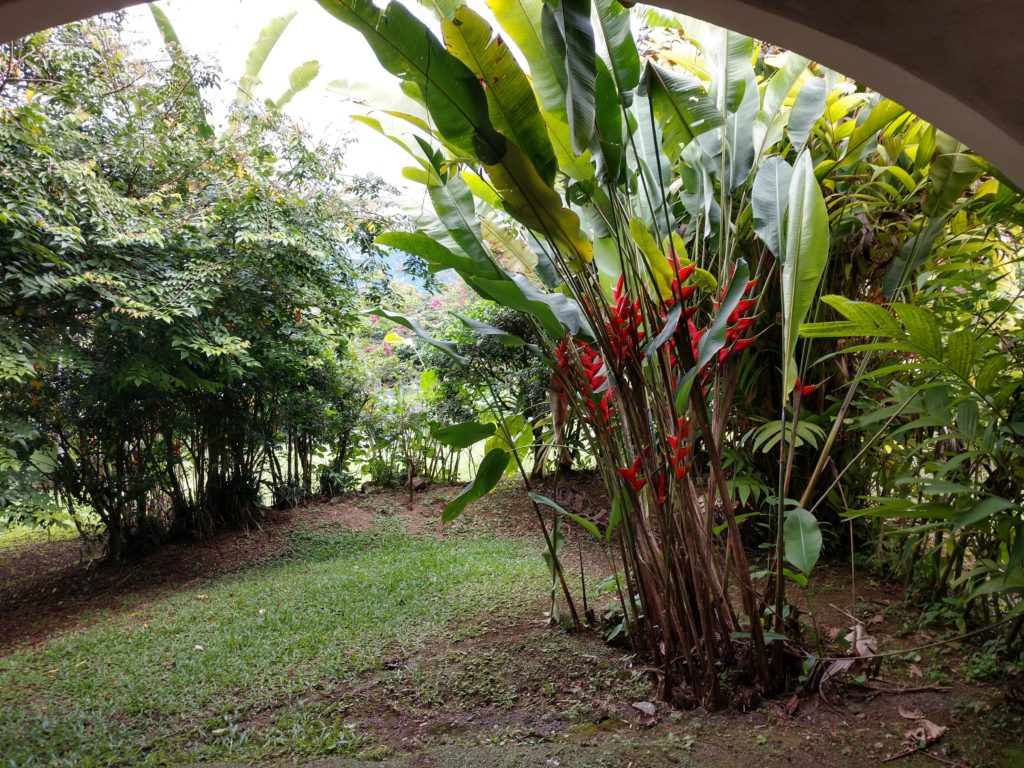 Our Casita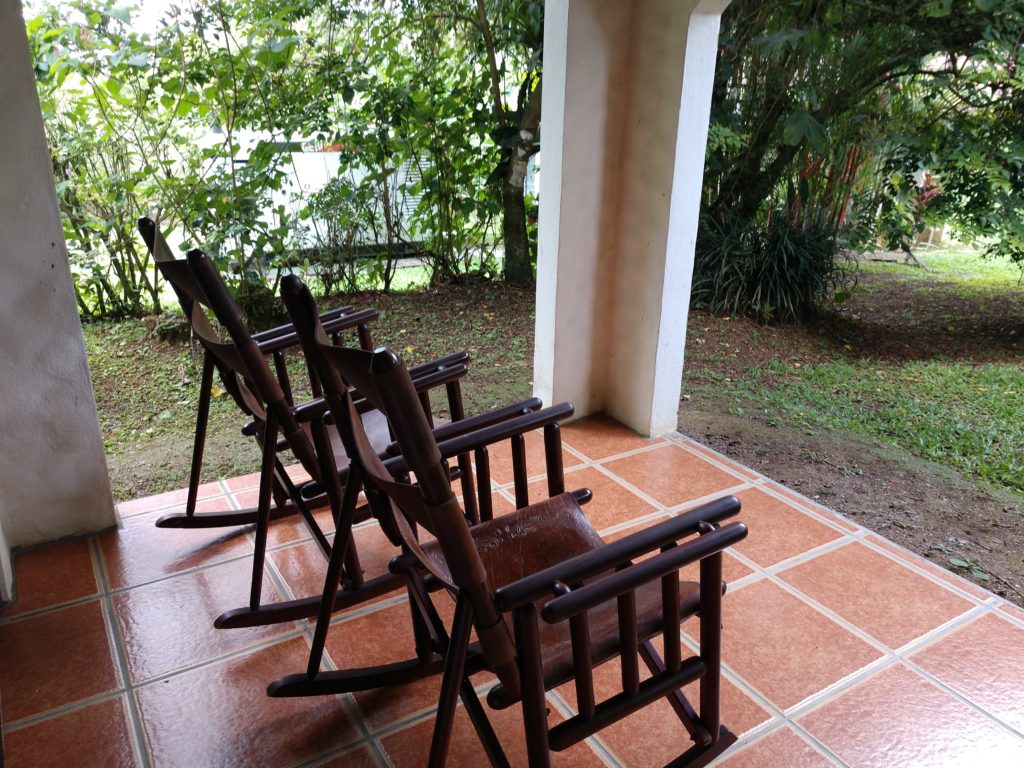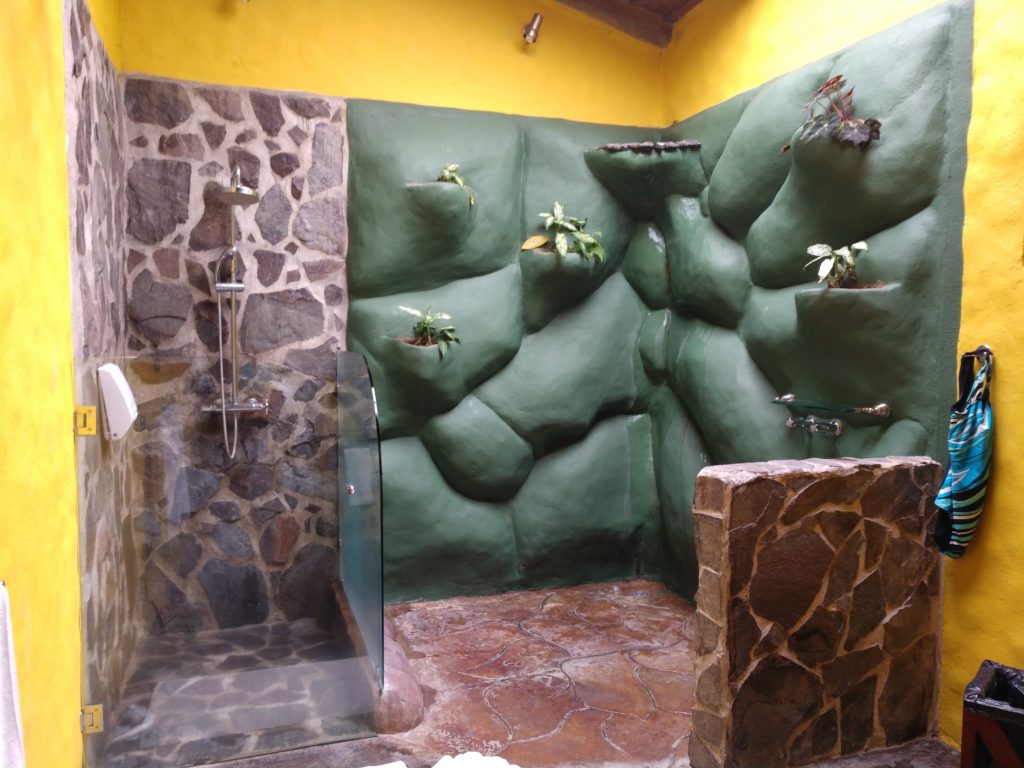 The day we arrived we spent relaxing and enjoying a delicious dinner outside with a wonderful view of the Arenal volcano.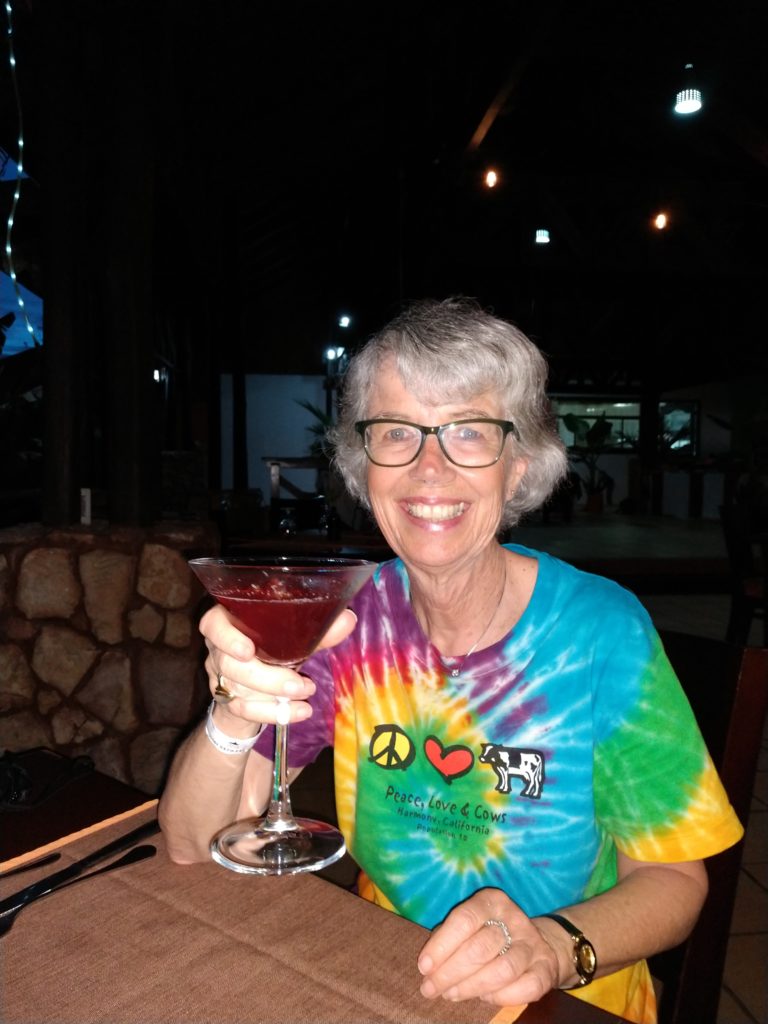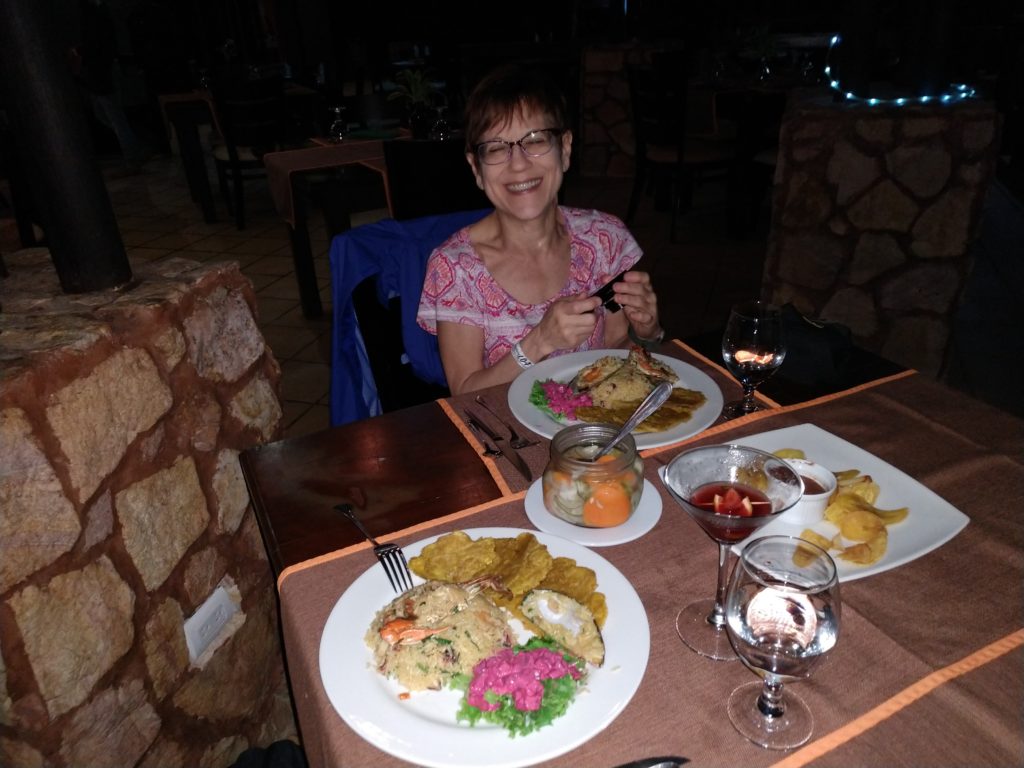 The next morning after enjoying a scrumptious buffet breakfast, we were picked up by our personal guide who accompanied us on our tour through the Arenal National Park. It was a warm day, interrupted by a few cloud bursts–May is the end of the dry season, but rain showers are frequent albeit short already during this month. It was a wonderful hike, during which we discovered tiny but poisonous snakes on trees (I can do without snakes, thank you very much, but fortunately our guide knew how to spot them). Other animals that we enjoyed more are the many different kinds of birds, some sloths hanging from the trees, and so-called holler monkeys (they really do holler!). In addition, there was a enormous variety of exotic plants and colorful flowers.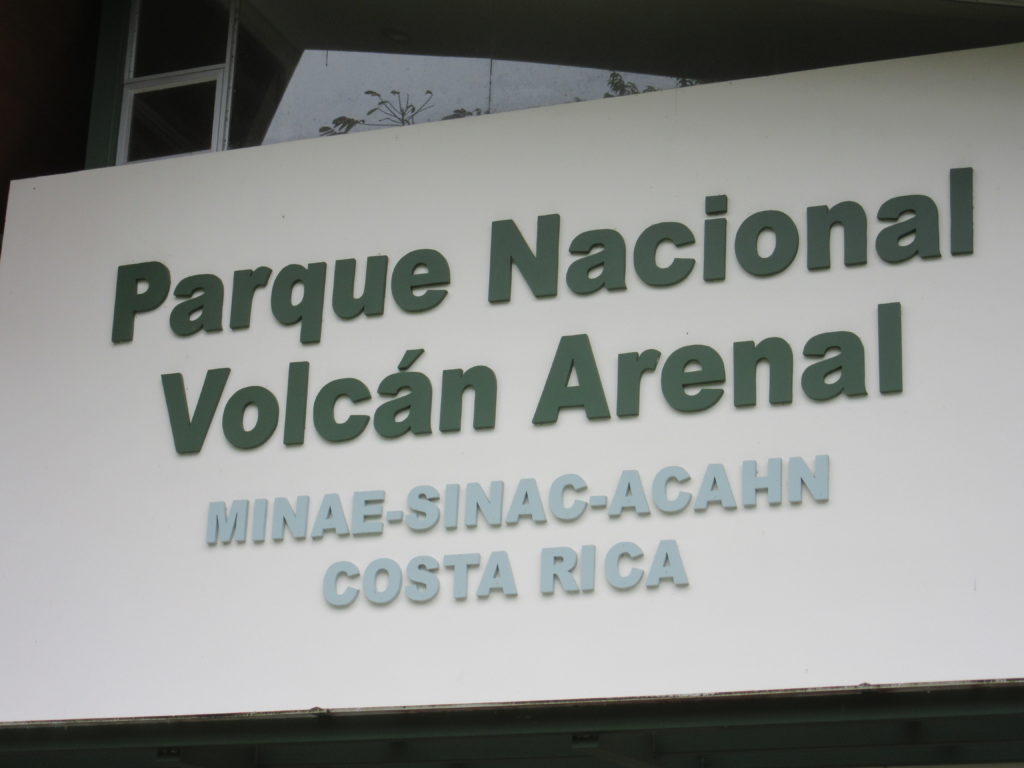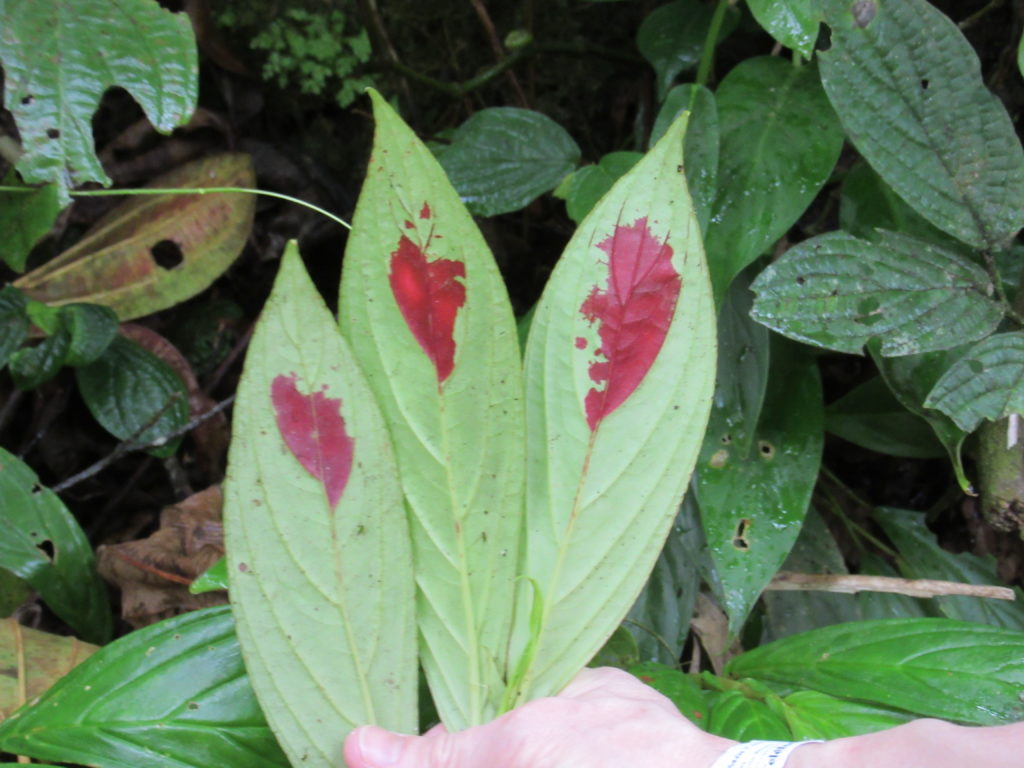 This plant above is called "Blood of Christ." The population of Costa Rica is mainly Catholic, including a variety of other Christian groups, so Christian names abound.
More pictures of plants animals and the ever-present Arenal Volcano (which once destroyed several villages but hasn't been active for many years). The hike brought us to a place with a wonderful view of the volcano as well as Lake Arenal (a man-made lake we'll be visiting the following day).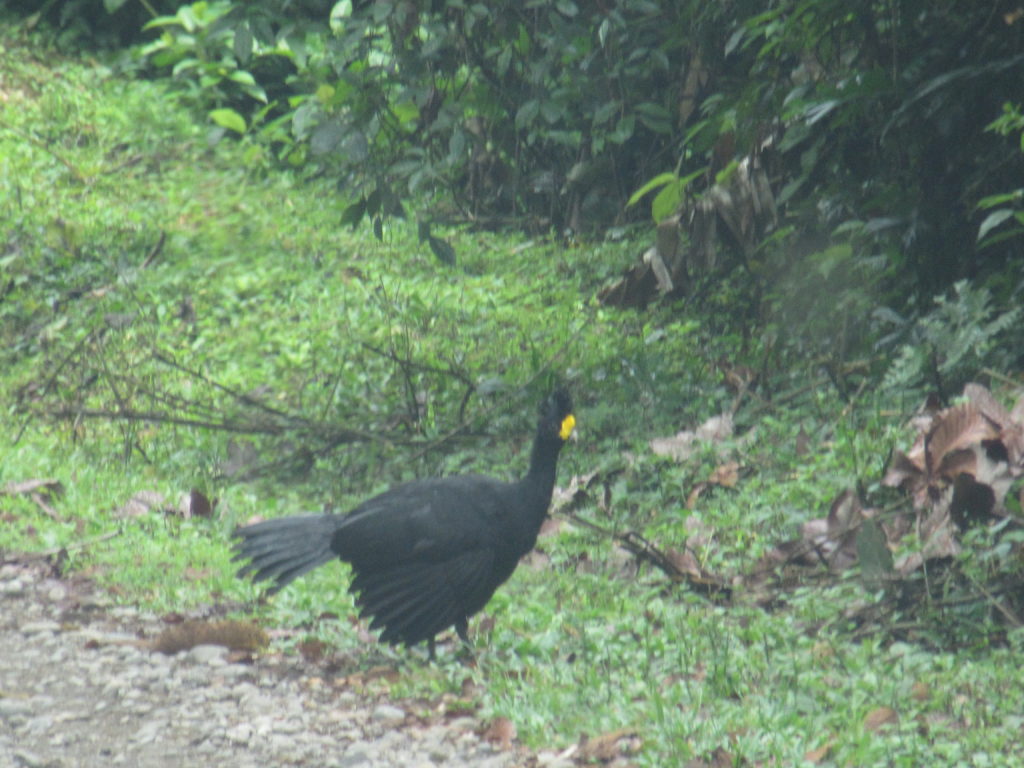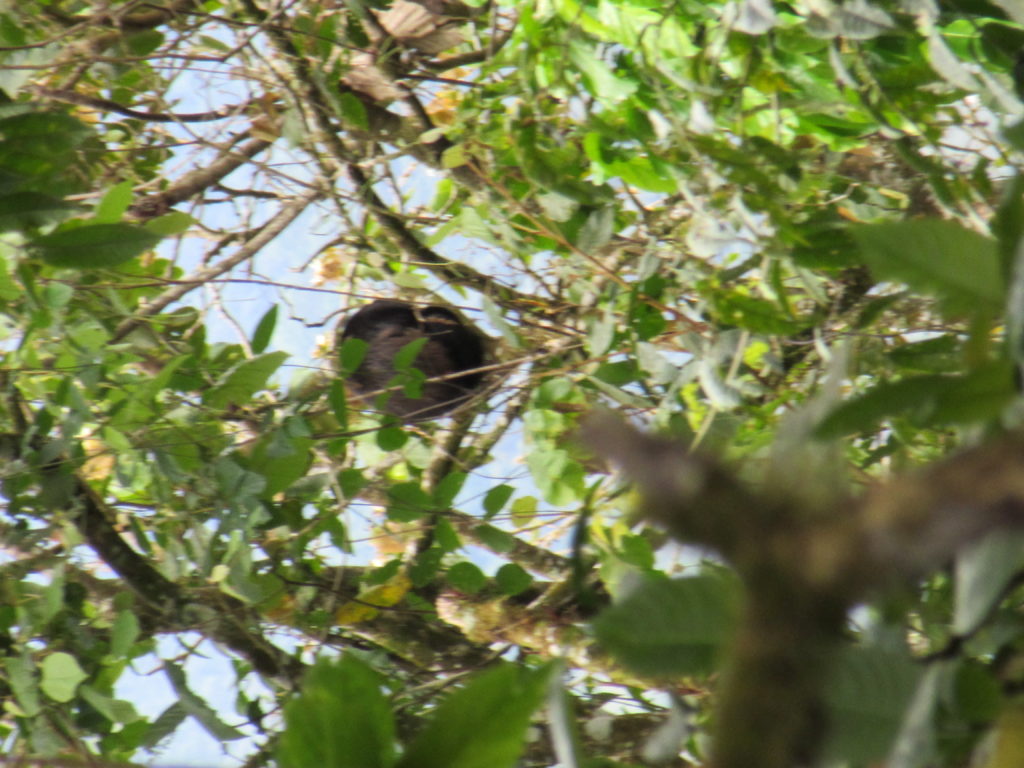 That fur ball above is one of the Holler Monkeys. He was quite far away and therefore somewhat out of focus.
Our friendly guide on the right who knew the names of thousands of plants and animals. It was his first tour after college and he was really great!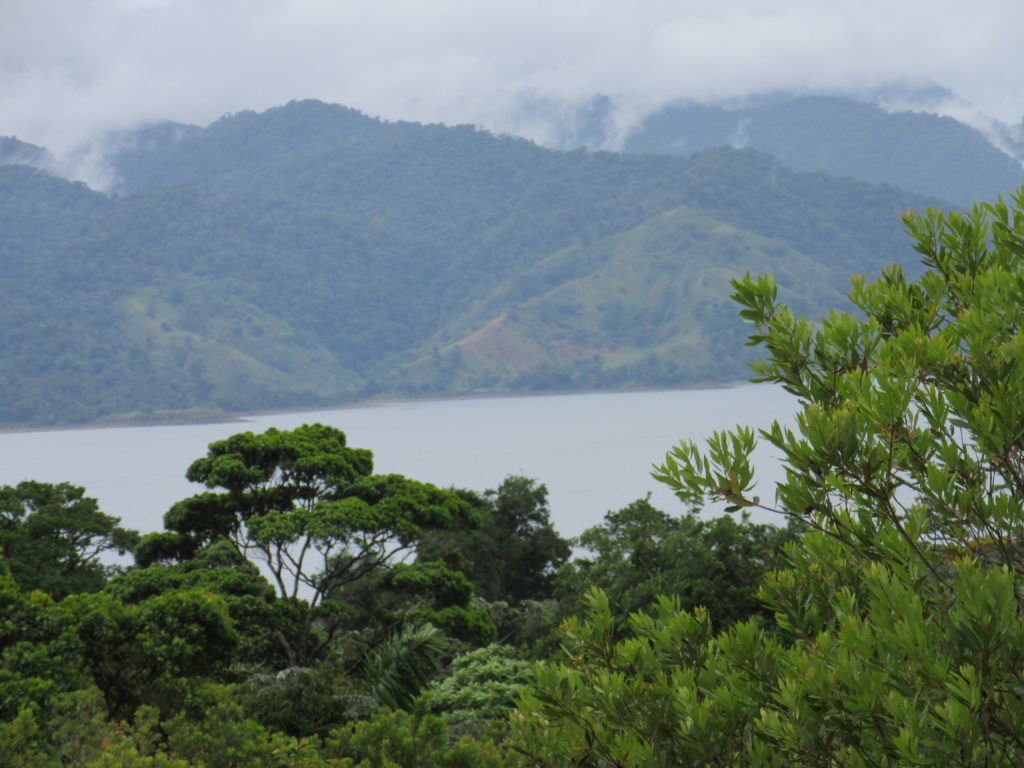 Lake Arenal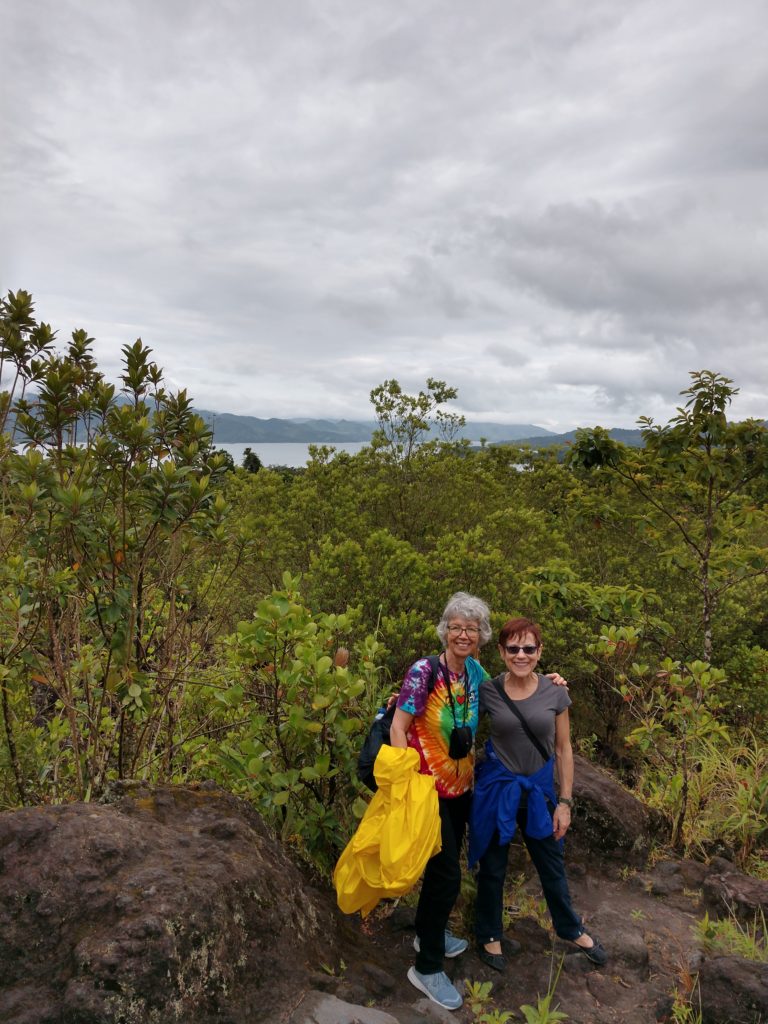 This is at the bottom of the volcano with Lake Arenal in the background. I just took off my yellow rain poncho after one of the short downpours that are so typical of this area. Now, we need sunglasses again.
On the way back, we enjoyed scenes of the always green, fertile landscape of this area. It reminded me of Switzerland. In fact, as someone told me, Costa Rica is sometimes called "the Switzerland of Central America," because it's so green.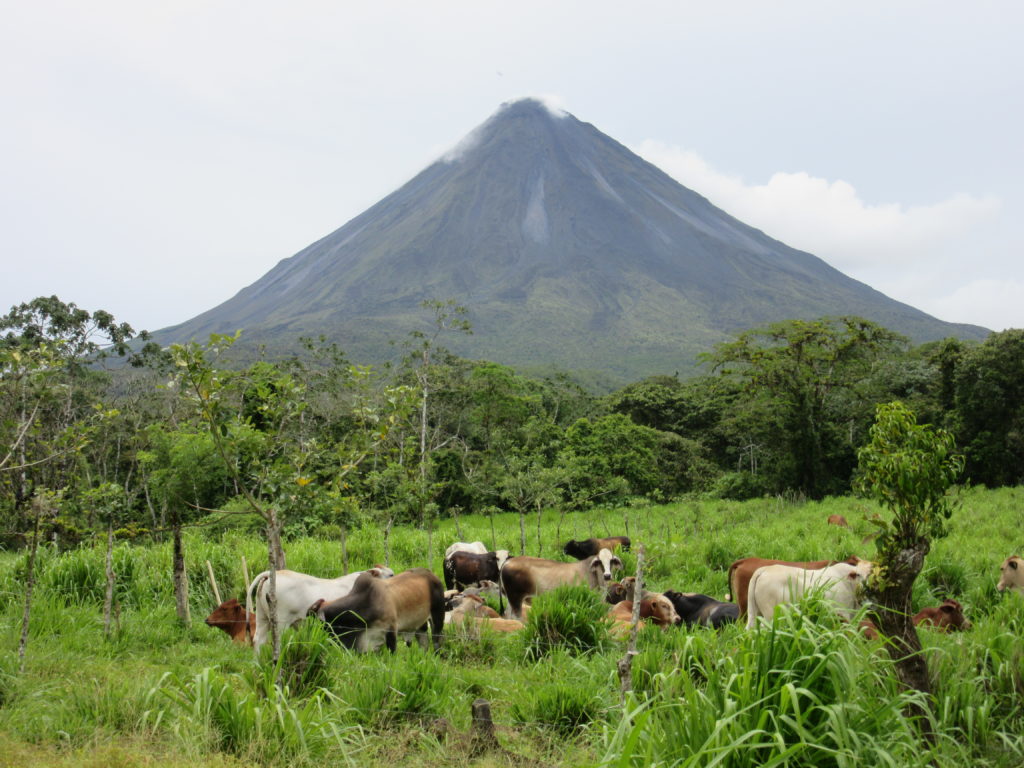 The next day, we went on a Kayaking tour on Lake Arenal. But before that we had a close encounter with a sloth by the name of Sammy. Stay tuned for more!
©Christa Polkinhorn 2018
About Christa Polkinhorn
Born and raised in Switzerland, I have always had the desire to explore the world outside of my beautiful but tiny country. I traveled in Europe, China, Japan as well as South America. Now, I live and work as writer and translator in southern California. My interest in foreign cultures informs my work and my novels take place in several countries. I published a volume of poetry (The Path of Fire). Now, I write and publish contemporary fiction with a focus on family drama/love stories (The Family Portrait trilogy) and family drama/suspense (The Wine Lover's Daughter series). Aside from writing and traveling, I am an avid reader and a lover of the arts, dark chocolate, and red wine.
A selection of books by Christa Polkinhorn
One of the reviews for Fire in the Vineyard

A wonderful story about a family of wine producers and merchants. The story comes with interesting characters and complicated family relationships. When things start to go wrong in the vineyard, everybody is a suspect, including family members. The author makes clever use of dialogue as things heat up and suspicions turn nasty. The vivid descriptions of the California wine producing landscape make you want to visit this part of America. Woven into the narrative is the complicated process of producing a bottle of wine. A great read for those who love a glass of wine and even for those who don't
Read the reviews and buy the books: https://www.amazon.com/Christa-Polkinhorn/e/B003LA7T8W
And Amazon UK: https://www.amazon.co.uk/Christa-Polkinhorn/e/B003LA7T8W
Read more reviews and follow Christa on Goodreads: https://www.goodreads.com/author/show/4202173.Christa_Polkinhorn
Connect to Christa
Website: www.christa-polkinhorn.com
Blog: www.christa-polkinhorn.com/blog/
Facebook Author Page: https://www.facebook.com/Author.ChristaPolkinhorn/
Facebook: https://www.facebook.com/christa.polkinhorn
Twitter: https://twitter.com/cpolkinhorn
Instagram: https://www.instagram.com/cpolkinhorn/
My thanks to Christa for allowing me access to her archives and I know she would love to have your feedback.. I hope you will head over and explore her wonderful selection of posts. Thanks Sally