This series is an opportunity to showcase posts from around our community and the brilliant bloggers who share with us. It would be amazing if you would follow the links to the post I have highlighted and whilst visiting follow and support the blogger.
The first blog today is from Miriam Hurdle and shares the gifts that she gave herself in celebration of a great achievement.
The Friday prompt for Stream of Consciousness Saturday from Linda is "wrap/rap." I used unwrapped.
I gave two unwrapped gifts to myself when I graduated with the Doctor of Education in year 2000.
The first gift was two season tickets to six operas in 2001. When I was a kid, we didn't have a radio. I listened to the news, ghost stories and other broadcast on my neighbor's radio. There was a theme music playing before the news. After thirty seconds, the music faded as a female announcer came in to report the news of the day. That was the beginning of my classical music appreciation and I later identified the theme music for the news broadcast as the Overture of Bizet's Carmen. I started taking voice lessons at nineteen years old and sang pieces of operatic music.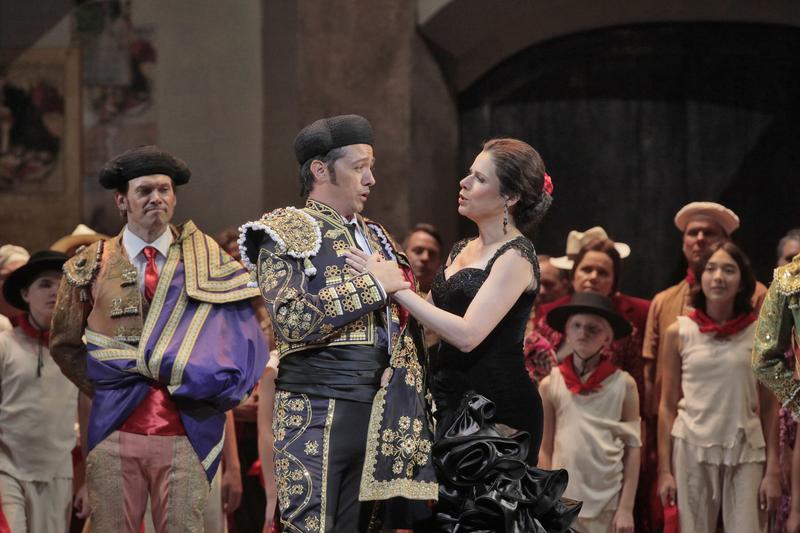 I hoped to see operas such as Carmen, La Bohème and La Traviata, and learn about less popular ones. Hubby likes mostly country western music, but he would go with me to see the operas. Part of the attraction to me was to dress up and be with other people who had the same interest. At the opera house, people could rent small binoculars at $7 each. We brought two binoculars with greater strength. I not only wanted to see the details of costumes but also the singers' expressions.
Find out more about the opera that Miriam enjoyed and what the other gift that she gave herself: https://theshowersofblessings.com/2019/09/20/socs-2019-09-20-two-unwrapped-gifts/
Miriam Hurdle, Buy: https://www.amazon.com/Miriam-Hurdle/e/B07K2MCSVW
Website and blog: https://theshowersofblessings.com/  – Goodreads: Miriam Hurdle
The next post is from educator and storyteller Norah Colvin, and follows on from a series of interviews with a number of us about our school days. Norah has collated the answers to discover common threads and suggestions on how education might be improved. In this post she shares our answers to the question – How can schools be improved?
In the recent School Days series which featured reminiscences of twenty-five authors and bloggers, each was asked for suggestions of improvements that could be made to schools.
In this post, I share those suggestions. If you wish to read more of the authors and bloggers' works, please click on their names to follow the links. If you would like to read their reminiscences, follow this link.
This post concludes the series for now. I thank you all for joining in the conversation. I thoroughly enjoyed the discussion. There are still some who would like to share their reminiscences which I will post as they come in on a Sunday evening. For now, I'll leave you with these wonderful suggestions of how school could be improved. (Note: I have arranged the bloggers in alphabetical order of first name.)
Anne Goodwin, How do you think school could be improved?
Reinvest in SureStart (it was a UK New Labour thing for at-risk preschoolers) so that all kids have the skills they need for school.
Scrap private schools' charitable status and put the taxes raised into state education.
Abolish all religious schools, and schools established to follow a particular fad.
Provide every child with a light breakfast and a three-course vegan lunch (to avoid the expense of catering for different diets) for free. Kids can't learn if they're hungry, and we desperately need to give the adults of tomorrow the skills to pursue a healthy diet. (So cooking and gardening lessons too.)
Halve class sizes, and give teachers more support, including optional counselling / short-term therapy for anyone working with kids.
Foreign language and music classes from the early(ish) years and (although I hated it) compulsory exercise through a diversity of sports. (Why should these life-long benefits be restricted to those whose parents can cough up the dosh?)
Prevent (religious) parents from withdrawing their children from certain lessons, such as sex and relationships, including same-sex couples.
Idealistic? Too expensive? Not if we care about the future society we build.
Balroop Singh, How do you think schools could be improved?
First, recruitment of qualified teachers who feel inspired to take the responsibility of teaching the next generation is essential. Second, they have to be paid at par with others to attract intellect and talent to this profession. Number of students in a class needs to be reduced and value-based education with flexible curriculum could be helpful for those students who want to pursue higher studies.
Find more opinions on this question from Barbara Vitelli, Carol Taylor, Charli Mills, Chelsea Owens, Christy Birmingham, Darlene Foster, Debby Gies, D.Avery, Geoff Le Pard, Hugh Roberts, Joy Lennick, Jules Paige, Mabel Kwong, Marsha Ingrao, Miriam Hurdle, Pamela Wight, Pauline King, Pete Springer, Ritu Bhathal, Robbie Cheadle, Sherri Matthews, Susan Scott and yours truly: https://norahcolvin.com/2019/09/22/how-schools-could-be-improved/
Connect to Norah via her websites
Website: www.NorahColvin.com
Website: www.readilearn.com.au
The final post today is from author Cynthia Reyes and is a lovely interview with her daughter and co-author of the Myrtle the Turtle series, Lauren Reyes-Grange.. They are joined by the next generation, a granddaughter who is joining the family very soon. Please head over and enjoy this wonderful family affair.
I've been wanting to interview my co-author, Lauren Reyes-Grange.
But how do you do that when she is your daughter, as well as the person who inspired the first Myrtle the Purple Turtle book?
I decided to put on my professional interviewer's hat — after all, I'd done thousands of interviews in my journalistic work. Here goes:
When did you first realize you loved to tell stories?
LRG: I can't remember a time when I didn't love to read stories, write stories or tell stories. I am fairly certain I was born with a wild imagination. Pair that with two parents who were superstar journalists (and naturally fantastic storytellers), and I think I was bound to catch the bug, too.
What was it like growing up in a house of storytellers and writers?
LRG: It was wonderful. I loved hearing stories about my parents' work, about their day. My parents also encouraged my sister and me to read, be curious, stand up to injustice, and look for the humour in everyday things which I believe makes for great storytelling.
Head over and read the rest of this heartwarming interview between mother and daughter: https://cynthiasreyes.com/2019/09/22/interview-with-lauren-reyes-grange
Cynthia Reyes, Buy: http://www.amazon.com/Cynthia-Reyes/e/B00F1HTQQ6
Blog: https://cynthiasreyes.com/ – Goodreads: https://www.goodreads.com/author/show/7072186.Cynthia_Reyes
Thank you for dropping in today and I hope you will head over to read the posts in their entirety … thanks Sally