For the last two years D.G. Kaye, Debby Gies has taken us on vacation all around the world from Arizona to Malta, on cruise ships and by air. This will be the last Travel Column, but have no fear… Debby will be returning in 2020 with a brand new column that showcases one of her other areas of expertise, relationships in all their glory. I am excited and I am sure that you will find the series both interesting and helpful as we navigate our way through these sometimes tricky elements of our lives.
Look out for Debby's introduction post in the New Year….
For this final Travel Column Debby is going to share three winter resorts that are popular during the ski season but also have activities for all the family, including someone like me who does not trust two short planks down a mountainside at 60 miles an hour… I prefer waiting at the other end of the slopes at the Gluhwein (hot red wine) stall…..
Take it away Debby….
Thanks everyone for setting out on this last trip of the Travel Column series and I am very excited to be back next year with my new column, and looking forward to plenty of discussion on the subject of relationships.
There are a great many wonderful ski resorts in North America and in Europe as well as slightly further away in New Zealand. I have selected three that are wonderful places for the whole family including non-skiers.  If you are thinking about a ski vacation then you might find this site very useful as it covers resorts around the world: Ski Resort Information
I am of course going to begin in my home country.

Canada, British Columbia – Whistler Blackcomb gets five out of five stars by multiple users on the site.

The Whistler Blackcomb ski resort is very family and child friendly. There is a separate Family Zone on Whistler Mountain and multiple Whistler Kids children's areas distributed throughout the ski resort. The Children's Adventure Park, the Big Easy Terrain Garden and the Tree Forts are very popular up on the mountain. Families are very well cared for at Whistler. For the bigger kids, there are many events as well as the Ziptrek (a zipline flight over Whistler). Special packages offered for the whole family round off the offering.
I think that this video gives you a brief idea of what is available courtesy of the official Whistler resort
Additional activities include snowmobile tours, Fire and Ice spectacular displays from professional skiers, and ice track with bobsleigh, a Scandinavian Spa and ziplining.
The resort has accommodation, bars, restaurants and if you would like a spectacular cocktail with a view… then visit the Umbrella bar looking out across the snowy landscape and stunning mountains.
For all the information you need visit Whistler Blackcomb
Flight times
From UK to Vancouver: 10 hours – Flight time to Whistler: 37 minutes or Drive Time: 2 hours.
From Toronto: 5 hours
From US East Coast:  6 hours
From US West Coast:  3 hours.
Exchange rate as of December 16th.
Canadian $1 will cost you 57p Sterling and 68 cents Euro

Now something closer to home for those of you who live in the UK and would like to ski closer to home.. The Cairngorm Mountains in Scotland has been a skiing destination for the last fifty years and they have the advantage of opening early in the season using factory made snow on the beginner slopes to get newbies to the sport up to speed (pardon the pun) before the main season begins.
"We offer 30km of ski runs, 10 lifts, a fully maintained freestyle park. The snowsports season typically runs from December through until April, but this varies from year to year depending on weather. You don't have to have your own ski or snowboard equipment either, because you can hire everything you need with us."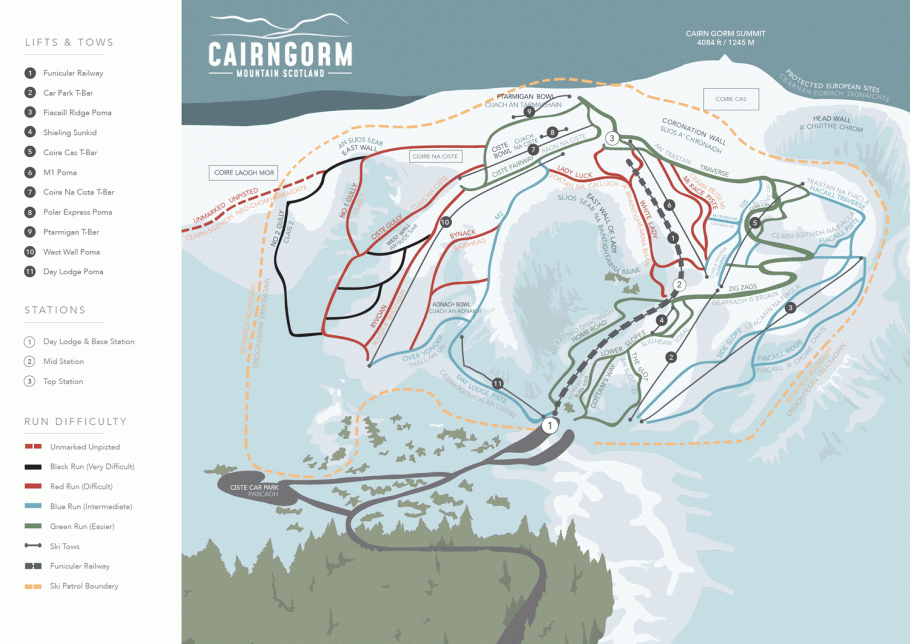 Map image Cairngorm Mountain Piste Map
Apart from skiing there is also snowboarding and back country touring on skis or snowboards.
There are five ski centres in the Cairngorm Mountains and you can find out more about them from this helpful site: Finding the Universe
There is no accommodation at the resort but there are plenty of options in Aviemore and you can find details here: Aviemore Trip Advisor
The Caingorms are an all year around resort with hiking and climbing in the summer months… Here is a taste of what you can expect during the ski season courtesy of OutandAboutinScotland
Official Aviemore Site: Visit Aviemore
Clearly there are ski resorts closer to home for North Americans, but typically tourists go to Europe and the UK in the early summer until the fall, however you might like to rethink that and do a ski tour of Europe instead and add Aviemore to your stop. Glasgow airport services all the main European capitals including Geneva which is a 2.5 hour flight and there are some very cheap flights.
But for those living in the UK and Ireland, having this on their doorstep must be great.
Flight times
From Toronto to Glasgow: 7 hours – Drive Time to resort 2.5 hours – Train: 2.5 hours (scenic route).
From US East Coast:  7 hours
From US West Coast:  11 hour
From Gatwick to Inverness: 1.25 hours – 30 minutes drive.
Exchange rates as of December 16th.
US  $1 will get you 75p Sterling
Canadian $1 will get you 57p.
One Euro will get you 83p.
And last a ski resort in the United States which is also a year round destination of lovers of the outdoors. And with luxury homes to rent on the shore of the spectacular Lake Tahoe, and with resort hotels, casinos, great food and entertainment on the doorstep, it is a wonderful place to vacation. (And I know that Tahoe is Sally's favourite place having visited in the spring, summer and winter).
I think that this video says everything about Tahoe which includes its all year round activities, not just the terrific skiing. Courtesy of Expedia
Accommodations
There are plenty of options from large lodges on the lake to condos and resort hotels, prices do vary throughout the year and you can find some great deals during gaps between the main vacation months. You can explore all the options: Tahoe Accommodations.
Restaurants
You will never go hungry in Tahoe with a wide range of ethnic and North American restaurants to choose from: Eating out Tahoe
Activities for non-skiers
There is plenty to do if you do not want to hit the ski slopes, from Blackjack and a visit to an art gallery to a cruise around the lake, there are also wonderful shows in the evenings at the casinos with top headliners: Winter activities
How about this for a ride of a lifetime courtesy of HeavenlyMtnResort
Official site: Tahoe.com
Flight times
From the UK with 1 stop in Los Angeles or San Francisco – 14.5 hours Drive Time from Reno 1 hour 20 minutes (shuttles available)
From US East Coast  – 5.5 hours
From Los Angeles to Lake Tahoe airport – 54 minutes – Drive Time 7.5 hours.
From Toronto to Reno – 4.5 hours.
Exchange Rate as of December 16th.
£1 Sterling will get you US $1.34
Canadian $1 will get you US 76 cents
1 Euro will get you US $1.11
I hope that you have enjoyed this snowy vacation adventure with me and look forward to seeing you in 2020 with my new column…. Debby
About D.G. Kaye
Debby Gies is a Canadian nonfiction/memoir author who writes under the pen name of D.G. Kaye. She was born, raised, and resides in Toronto, Canada. Kaye writes about her life experiences, matters of the heart and women's issues.
D.G. writes to inspire others. Her writing encompasses stories taken from events she encountered in her own life, and she shares the lessons taken from them. Her sunny outlook on life developed from learning to overcome challenges in her life, and finding the upside from those situations, while practicing gratitude for all the positives.
When Kaye isn't writing intimate memoirs, she brings her natural sense of humor into her other works. She loves to laugh and self- medicate with a daily dose of humor.
I love to tell stories that have lessons in them, and hope to empower others by sharing my own experiences. I write raw and honest about my own experiences, hoping through my writing, that others can relate and find that there is always a choice to move from a negative space, and look for the positive.
Quotes:
"Live Laugh Love . . . And Don't Forget to Breathe!"
                 "For every kindness, there should be kindness in return. Wouldn't that just make the world right?"
When I'm not writing, I'm reading or quite possibly looking after some mundane thing in life. It's also possible I may be on a secret getaway trip, as that is my passion—traveling.
Books by D.G. Kaye
A recent review for Twenty Years After "I Do"

The author married a man who is twenty years her senior. At the time of their marriage, she did reflect on what could or would happen in the future as the relentless march of time took its toll, but she loved Gordon so much that she decided to grab the happiness and job life was offering her.
I found this book particularly interesting because my mother is ten years older than my father. My mother has always been "young" for her age and my father a bit "older" for his. They are now 80 and 70, respectively, and it has been interesting to watch the changes to their relationship and lifestyle. Ten years is half of twenty years, so such a big age gap does seem rather overwhelming to me and I was curious as to how the couple managed their life together now that they were both older. It turns out that they manage very well indeed, and I found this memoir uplifting and even inspiring.
The author addresses all sorts of aspects of married life, many of which are relevant in any marriage, regardless of the age of the spouses. I learned a lot from her thoughts and ideas, in particular, the idea of counting to ten before speaking in rage and never saying anything deliberately spiteful or hurtful. I have heard this message before, but never understood it quite like this. I am going to take this lesson learned forward in my life especially in my relationship with my one son, who is so like me we often fight like cat and dog.
The information covered in this book about living with a senior and travelling with a senior is useful to anyone who spends time and travels with parents so it is all very relevant and useful. I is also interesting to note how the author manages medications and illness with her senior husband.
This is a great book with numerous important messages that can be enjoyed and appreciated by people of all age groups looking to gain the best from life and relationships.
Read all the reviews and buy the books: Amazon US
and: Amazon UK
More reviews and follow Debby: Goodreads
Connect to Debby Gies
Blog: http://www.dgkayewriter.com
About me: http://www.wiseintro.co/dgkaye7
MeWe: mewe.com/i/debbygies
Twitter: http://www.twitter.com/@pokercubster (yes there's a story)
Linkedin: http://www.linkedin.com/in/dgkaye7
Facebook: http://www.facebook.com/dgkaye
Instagram: http://www.instagram.com/dgkaye
Pinterest: http://www.pinterest.com/dgkaye7
My thanks to Debby for all her great posts in the Travel Column series and look forward to seeing you again for the start of Debby's brand new series beginning in 2020.