Let's get this party started with some humour with The Story Reading Ape's Monday Funnies this week.. which is actually a graphic tale of a gal and a sailor meeting in a bar, with a number of punch lines along the way.. I will start you off and you can head over and enjoy the rest of the story..
Head over to find our how Lil and Sam get on… don't spill your coffee: The Story Reading Ape – Lil meets Sam in a bar…..

The Story Reading Ape buy: Amazon US –  And:  Amazon UK    Blog: The Story Reading Ape – Twitter: @StoryReadingApe
Now for a hard hitting short story from Pete Johnson, Beetley Pete that really brings home the true cost of war…
It was prompted by the above photo, sent to me by Mary Smith. Mary Smith's Place
Oleg Joins Up 
There was not much future for a boy without the academic or sporting skills to stand out. Oleg decided that the army was his best choice, and his parents agreed. Natasha was different of course. Older, confident, and good at science, she would definitely be chosen for better things. Her destiny was to go to the Institute in Kiev, admired and loved by their parents. The same parents who thought their young son would be better off in uniform, being told what to do.
His departure was an anticlimax. Poppa was at work, and Mummy was in a rush to get to a party meeting. As he waited for the train, Oleg felt a little empty, sure that they were only too pleased to be rid of their awkward boy, with his dull manner.
Training was a nightmare. The sergeant not only bullied them, he stole their money, beat them for the slightest infringement, and worked them with pointless chores until they could hardly stand. Oleg wondered how this was supposed to inspire fighting spirit in the country's troops. But he said nothing. He took it all, ate the terrible food, and suddenly began to realise that he was harder, stronger, and tougher than he had ever been. By the time he was nineteen, he started to understand why it had all been so bad up to then.
Head over to read the rest of this compelling story: Oleg Joins Up Beetley Pete
Get in touch with Pete and discover more about his writing – Blog: Beetley Pete WordPress – Twitter: Beetley Pete
And now time for a recipe and this time for baker as well as world creator…. Richard Dee.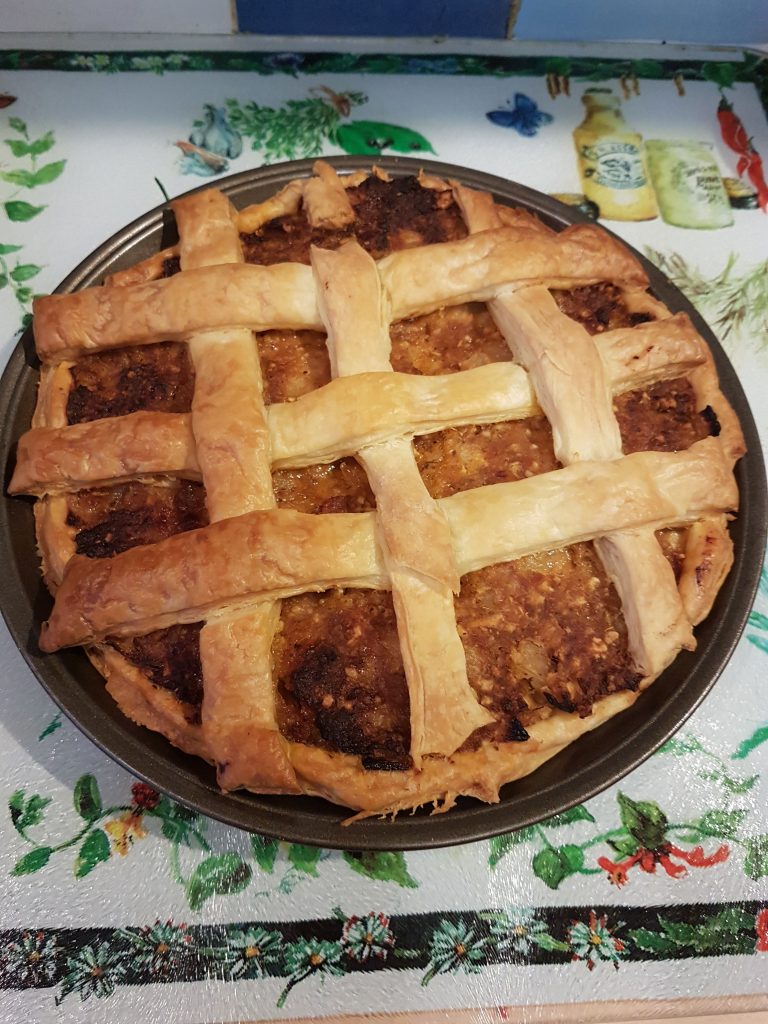 Sausagemeat, Onion and Apple Pie.
The place I buy a lot of my meat from, Evergreen Farm, has a wonderful range of sausages, with flavours ranging from Traditional, through Cumberland, Pork and Apple, Pork and Leek, Hot Spanish, Toulouse to Pork & Marmite. And many more.
He also has a clever way of using up the mixed meat resulting from changing spice mixtures on the production line. He markets them as change over meatballs, you get a mixture of flavours, all delicious.
I do know they're out of date, they were in the freezer!
I had some ready-made puff pastry leftover from Christmas mince pie making so thought that I could combine the meatballs and pastry in a pie, with a few other added ingredients.
Head over to find out how to make this delicious family meal: Sausagemeat, onion and Apple Pie by Richard Dee
Richard Dee, buy: Amazon US – And:  Amazon UK   Website: Richard Dee's Scifi – Goodreads: Richard Dee at Goodreads
A selection of books by Richard Dee

Thanks for dropping in today and I hope you will head over to read these posts in full… thanks Sally.