Welcome to the current series of Posts from Your Archives in 2020 and if you would like to participate with two of your posts from 2019, you will find all the details in this post: New series of Posts from Your Archives 2020
This is the second post from poet Miriam Hurdle and this week Miriam shares the two gifts she gave herself in celebration of graduating with as Doctor of Education in 2000.

SoCS 2019.09.20 – Two Unwrapped Gifts
I gave two unwrapped gifts to myself when I graduated with the Doctor of Education in year 2000.
The first gift was two season tickets to six operas in 2001 as my husband would accompany to see the opera. When I was a kid, we didn't have a radio but my neighbors did. I went to my neighbors to listen to the news, ghost stories and other broadcast. There was a theme music playing leading to the news. After thirty seconds, the music faded as a female announcer came in to report the news of the day. That was the beginning of my classical music appreciation and I later identified the theme music as the Overture of Bizet's Carmen. I enjoyed singing and started taking voice lessons at nineteen years old and sang pieces of operatic music.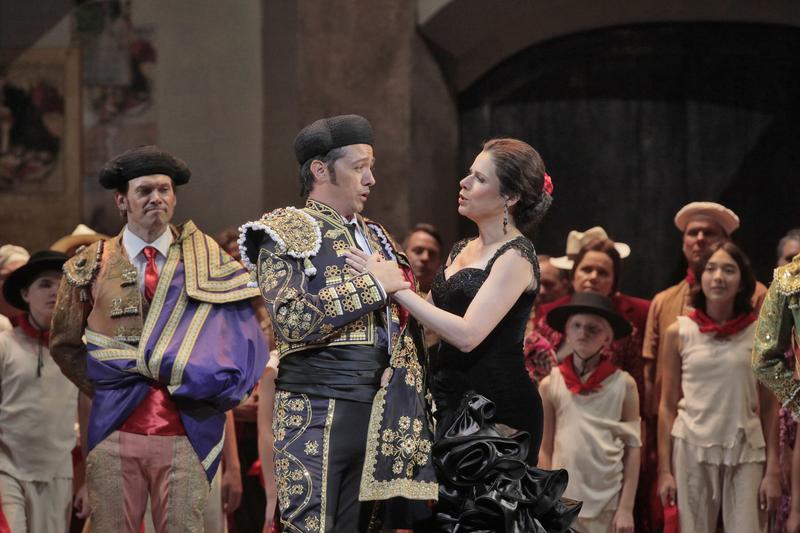 I hoped to see operas such as Carmen, La Bohème and La Traviata, and learn about other less popular ones. Hubby likes mostly country western music, but he would go with me to see the operas. Part of the attraction to me was to dress up and be with other people who had the same interest. At the opera house, people could rent small binoculars at $7 each. We brought two binoculars with greater strength. I not only wanted to see the details of costumes but also the singers' expressions.
Classical music was not Hubby's taste, let alone opera. Many people enjoy classical music but have no interest in opera. The first opera we went, Hubby slept through the first half. I didn't wake him even though his chin dropped to the chest. The only time I would interrupt was when he started snoring which didn't happen. Snoring in a classical performance is rude to the performers and disrespect to the audience. People don't cough or sneeze during the performance. They hold their breath and focused. When one movement is over, you'd hear people clearing their throats. The conductor waits until everybody quiets before he raises the baton. For the subsequent performances, I oriented him with the plots, so he watched the acts as if they were Broadway shows.
I stopped subscribing the tickets after three years when the popular operas repeated.
~
The second gift was a new car. I had a Honda Civic for about eight years. It had enough scratches and mechanical problems. It was about time to get a new car. I had ideas of the features in a new car that I liked, so I made a spreadsheet, listing on each row the specifications such as 4-doors, sunroof, automatic, CD player, and other items. On the columns, I listed four makes of cars – Infinity, Audi, Lexus, and Acura. At the bottom of the spreadsheet listed the price of each car. After the comparison and considered the pros and cons, I decided on the Acura. There were two determining factors, one of them was the price. I had to be practical after paying for three years of a doctoral program. Another factor was Honda had a higher rate of returning customers. Acura is the luxury car of Honda. I like Honda, so I would be happy with Acura. I bought an Acura.
Hubby kept up with the oil change and maintenance year after year. We didn't have any major problem with the car. Four years ago, fifteen years after I had the car, I started thinking about what I wanted to do. I would need to buy another car for my remaining life. When to buy it? The car needed new tires, and we bought four new tires. The tires were good for five years or 50,000 miles. I wanted to wait until close to the end of warranty to get a new car. A school principal told me he kept his Honda to 300,000 miles. My car should make it for several more years with the leisure driving after retirement.
In September 2018, we went to Las Vegas for a week. Upon our return, the car started to get overheated. Hubby tried to drive slower, but it made no difference. I didn't want to leave Nevada and have the car die in the desert. Calling AAA was in order. The driver came in a tow truck. After his assessment, he confirmed that the radiator broke. The car needed to be towed. We were not near any exit to turn around. The tow truck went forward fourteen miles to an intersection, then turned around toward Las Vegas. The closest Acura dealer was seven miles passed Las Vegas. Well, my insurance covers certain miles of towing and I paid for the rest. The dealer couldn't work on the car until the next day. We spent a night in that city where the dealer was and picked up the car the next day.
After replacing the radiator, I started to think of shopping for a car but didn't feel the urgency. I was thinking about doing that within a year. I should have gotten a new car before September this year but I didn't. Last Thursday, September 12, 2019 was the first week of classes at Osher Lifelong Learning Institute (OLLI), a program for the retirees. On my way to California State University, Fullerton, the car was not running smoothly. I found a place to park and called Hubby. He said the car had some traction issue but not a big problem. I went on to my classes. On my way home, the car had bigger traction problem. I pulled over by the curb, stopped and restarted the car, made it go for half a mile and restarted again. When I made a left turn at an intersection, it stopped in the middle of the road. I rolled down the window, signaled the car to bypass me. After great struggle to restart many times, I was like dragging a pouting dog to go for a couple more miles. Two miles before getting home, the car said, "That's it, I refuse to go any further."
Hubby came right away. We called AAA and the tow truck came, towed the car to the dealership which was five miles away. This time it was the transmission problem. The manufacture doesn't make the transmission for that model anymore. Getting a refurbished or used transmission cost $4,500. It's not worth spending that kind of money when I'm overdue for a new car.
I got 217,000 miles and 19 years out of my Acura anyway. I'll be car hunting and get another unwrapped gift for myself.
(Note: I got another Acura in November 2019 – Acura RDX)
©Miriam Hurdle.
About Miriam Hurdle
Miriam Hurdle is a multi-genre writer. She writes poetry, flash fiction, and short stories. Her poems are included in Letters to Gaia, Whispers and Echoes Issue 2, Whispers and Echoes Issue 3, and Outcast and More Words.
Music has rooted in her life. Being a soloist as a teenager led her to taking voice lessons and to have ongoing singing engagements. She continues to sing soprano in choral groups. Lyrics have a major influence in the natural flow of her melodic writing. She writes memoir in the form of poetry.
Along with her brother, she took photos when the films were black and white. Photography is still her enjoyable hobby. Drawing and painting were fun activities as a child. Her favorite was to draw a Japanese girl with big eyes, long hair, small lips and chin. She resumed drawing and watercolor painting several years ago. In her poetry collection, photos and paintings are included to illustrate the poems.
She earned a Doctorate of Education from the University of La Verne in California. After two years of rehabilitation counseling, fifteen years of public school teaching and ten years in school district administration, she retired and enjoys life with her husband in southern California.
About  Songs of Heartstrings

Human being has the willpower to travel through an exhausting journey, win a tough battle, and heal a deep wound. Strength from hope keeps us going until the light at the end of the tunnel is in sight and striving until the storm is over.
This poetic memoir comprises themes ranging from the suffering through an undesirable relationship, surviving an aggressive cancer, to the happiness in true love, the joy of parenthood, and gratefulness toward the Maker. Hurdle reveals the honest self-talk and reflects a heart filled with optimism, faith and trust. She illustrates the poems with her beautiful photos and paintings.
One of the recent reviews for the collection

I downloaded Songs of Heartstrings in my Kindle almost half a year ago. Selfishly, I've been reading it a little at a time, because I like to dig deep into a poem, savor it. let it simmer within me, then re-read it days or even weeks later. There is SO MUCH in Miriam's verse and prose. All of her nature poems – trees, flowers, plants, insects – are lovely and speak to the human in us even while describing the flower or the butterfly. The poems she wrote during/about her cancer treatments are so deep and intense – through reading the poems, I experienced what Miriam felt as she dealt with chemo and worry and wonder. The poem about finding her "balance" yogic pose after recovering from chemo was amazing – I believe she is writing not only about balancing on one foot, but finding balance in her life as she recovers. Hurdle's poetry is relatable to us all.
Read the reviews and buy the collection also in Spanish and Portuguese: Amazon US
And: Amazon UK
Read reviews and follow Miriam: Goodreads
Connect to Miriam
Website and blog: Showers of Blessings
Facebook: miriam Hurdle
Twitter: @mhurdle112
My thanks to Miriam for permitting me to share her posts and thank you very much for dropping in today and I know that Miriam would love your feedback. Thanks Sally.