A couple of weeks ago I looked at one of the most common health conditions we suffer from which is not going to be reduced by working from home.  common-conditions-a-z-working-from-home-backache
In the next three posts I am going to introduce you to a technique which has helped me over the years that you might find useful. As we get older we do tend to lose our flexibility, and posture unless we make an effort to keep supple.
I am nearly six foot tall and I was tall as a child. I towered above my primary school friends and my temptation was to slouch. However, when I was seven I was enrolled in ballet classes at my school in Malta. There was a fierce, elderly French ballet teacher (she was probably only 50!) But to us she was appeared to be a witch with a stick that used to tap in time to the music and be raised in frustration at the tubby attempts at grace by her pupils.
Two things that I took from those ballet classes over the next year or so, were to stand tall and correctly and to do the splits.  The second physical talent came about with a little assistance from 'Madame'… We had done our barre work for the session and then she told us that we needed to be more flexible as ballet dancers and that we should be able to do the splits. I managed to get down to about 4 inches off the floor and was remarkably proud of myself. I looked around the room and found others in a similar position and then found a hand on my head and a gentle push (would not be allowed today), and I found myself fully extended and touching the floor.
I have not tried the splits for some years, but I have been known to cast all caution to the winds when infused with tequila or other numbing agent and showcase my skills. Today I would need a tackle and hoist to get up again off the floor!
All this leads me to some very hard-hitting statistics on back pain in the UK alone.
In a paper published by the World Health Organisation it mentions the number of work days lost in a year due to back problems in the UK alone as over 100 million.  
"Low back pain is the single biggest cause of years lived with disability worldwide, and a major challenge to international health systems. In 2018, the Lancet Low Back Pain Series Working Group identified a global problem of mismanagement of low back pain." WHO
Over the years I have experienced back pain, shoulder pain and headaches that are work and stress related (certainly several hours a day online is a contributory factor), but this technique has given me a tool to use instead of pain medication. It has certainly made me aware of my posture and how it impacts many other physical functions within my body.
The Alexander Technique.
The originator of this technique is Frederick Matthias Alexander, an Australian actor, who found that his career began to falter as he lost his voice on stage. He consulted doctors but they could find neither the cause nor the cure for the problem.
He noted that he seemed to improve with rest and was away from the stage, so decided to find out what event was taking place when in a role, that might be causing the problem. He acted out his current stage role in front of a mirror and noticed that a remarkable physical change took place. He seemed to shrink in height and had difficulty in breathing. He reasoned that the stress of remembering lines and then projecting them to the back of the theatre, was causing him to tuck his head into his chest, putting pressure on his vocal chords, tightening his throat which in turn interfered with his breathing. Clearly his mind and body were combining their efforts when stressed and he needed to develop a technique to overcome this.
Alexander continued to observe his physical reactions to stress and correcting his posture and breathing, resulting in the return of his voice on stage. He also understood that others in the profession would also be experiencing the same problem, and in 1904 he went to London where he was in high demand by his fellow actors. He moved to America and his technique became internationally recognised. He further astounded the medical profession by recovering from a stroke at 78 years old to regain full use of his body and brain function.
His technique is now taught all over the world by actors, singers and dancers, as well as millions of men and women in all walks of life, who have felt the benefit of the ability to harness the mind and body connection.
On Friday I will be sharing some of the techniques you can adopt when standing and sitting to help ease or prevent back and neck pain, headaches and improve breathing and stress.
In the meantime it might be a good idea to test the age of your body with regard to flexibility. Do not try to push your body where it does not want to go.. Here is an extract from an article from an excellent site which has 5 tests you can try to test just how flexible you are.
5 Exercises to Test the Age of Your Body
Let's check your shoulder joint flexibility.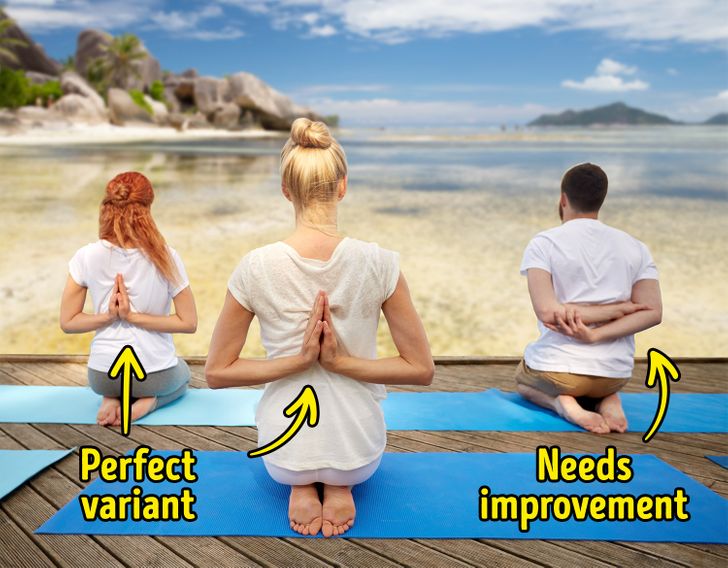 © depositphotos
Was it easy? Congratulations! Either you're doing well or you're young.
"I did it, but it was rather challenging." You need to practice more.
If it was very difficult, carefully grasp your elbows with your palms behind your back. Stay in this position for a few minutes. Practice more if you don't want to experience frozen shoulder symptoms.
Check your spine flexibility along with the other tests: Brightside – 5 Exercises to test the age of your body
©Just Food for Health 1998 – 2020
I am a qualified nutritional therapist with twenty-two years experience working with clients in Ireland and the UK as well as being a health consultant on radio in Spain. Although I write a lot of fiction, I actually wrote my first two books on health, the first one, Size Matters, a weight loss programme 20 years ago, based on my own weight loss of 154lbs. My first clinic was in Ireland, the Cronin Diet Advisory Centre and my second book, Just Food for Health was written as my client's workbook. Since then I have written a men's health manual, and anti-aging programme, articles for magazines and posts here on Smorgasbord.
If you would like to browse my health books and fiction you can find them here: My books and reviews 2020
Your feedback is always welcome and if you do find that following any of the posts that I have shared are beneficial then it would be great to hear about it. If you have any questions you can email me on sally.cronin@moyhill.com.