Since this series began in January 2018 there have been over 1100 Posts from Your Archives where bloggers have taken the opportunity to share posts to a new audience… mine.
The topics have ranged from travel, childhood, recipes, history, family and the most recent series was #PotLuck where I shared a random selection of different topics. This series is along the same lines… but is a 'Lucky Dip'
In this series I will be sharing posts from the first six months of 2021 – details of how you can participate are at the end of the post.

This is the first post from children's author and poet Miriam Hurdle and was published in February 2021 and is a celebration of Chinese New Year.
Chinese New Year – Memories, Calendar, Legend, and Traditions
Chinese New Year begins on Friday, February 12, 2021. It is the year of Ox. The holiday was traditionally a time to honor household and heavenly deities and ancestors. It was also a time to bring the family together for feasting.
Childhood Memories
When I was a kid, my favorite family time was Chinese New Year. We had one week off from school and my dad had five days off from work. On New Year's Eve, Flower Markets took place in major parks. They were open from early evening to 5:00 a.m. on New Year's Day.
One year, I went to the Flower Market with my older sister and her boyfriend. We lived in western side on the Hong Kong island, and took the tram to Victoria Park in Causeway Bay. By the time we finished walking through the entire market, there was no tram in operation until morning. We followed the tram track and took one hour and thirty minutes to walk home.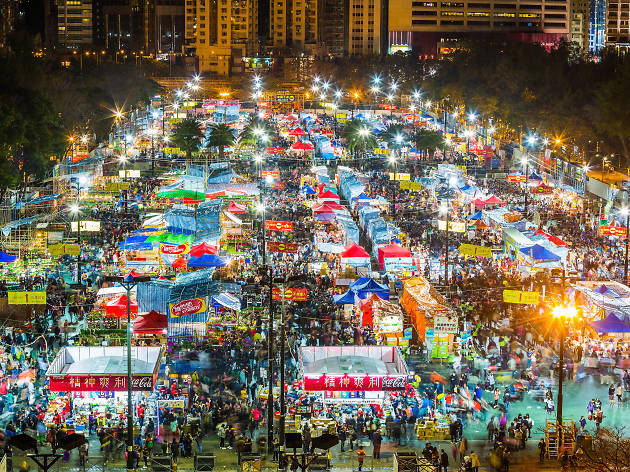 Victoria Park Chinese New Year MarketVictoria Park, Causeway, Hong Kong
I was half asleep even though my feet were moving with one hand holding my sister's and other hand holding something she bought me. I dropped the bag on the ground many times, bent down, picked it up and continued walking on autopilot.
By the time we got home, my mom had made special food as part of the Chinese New Year ritual. I liked sweet rice balls. We ate and went to sleep for a few hours. On New Year's Day, everyone put on new clothing. Kids would say "Gung Hei Fat Choi" (Wishing you prosperous) to the parents and adults. My parents and the adults in the neighborhood gave us kids Lucky Money in red envelopes. It was the tradition for the married people to give Lucky Money to the kids and unmarried adults. We visited our relatives on the second, fourth, and fifth day. Kids loved that because we could keep all our Lucky Money.
We anticipated with excitement on the 3rd day. There were three activities became our family tradition. In the morning we went to Tiger Balm Garden, which was a private mansion and garden that eventually became a public garden. After Tiger Balm Garden, we went to the Botanic Arboretum, and visited the Governor's Garden, which was open to the public during Chinese New Year.
Being able to spend five holidays with my parents was the best thing for me as a kid.
Why Chinese New Year is on a different date each year?
Chinese New Year is based on the ancient Chinese lunar calendar. It functioned as a religious, dynastic, and social guide. Oracle bones inscribed with astronomical records show the calendar existed as early as 14th century B.C. when the Shang Dynasty was in power.
A lunar calendar is based on the monthly cycles of the Moon's phases, with the new moon being the first of the month and full moon the middle of the month.
Each lunation is approximately ​29 1⁄2 days. The lunar calendar alternates between 29 and 30 days a month and an average of 354 days a year.
Leap Year
The Gregorian calendar has an average of 365.25 days a year, and therefore 365 days a year with 366 days in a leap year every four years.
Approximately every three years (7 times in 19 years), a leap month is added to the Chinese calendar. To determine when, we find the number of new moons between the 11th month in one year and the 11th month in the following year. A leap month is inserted if there are 13 New Moon from the start of the 11th month in the first year to the start of the 11th month in the next year.
Chinese New Year usually begins when the new moon occurs between January 21 and February 20, and it lasts about 15 days until the full moon arrives with the Festival of Lanterns.
The Legend of Chinese New Year celebration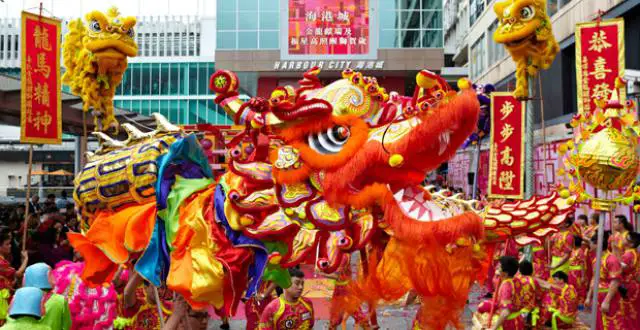 Lion Dance, Chinese New Year, Hong Kong
According to Chinese mythology, a Nian is a beast lived under the sea or in the mountains. It was unclear whether the Nian was an authentic folk mythology or a local oral tradition. Some sources cited it resembled a lion's head with a dog's body. Towards the end of winter, on Chinese New Year's Eve, the Nian came out to feed on crops and sometime children. All the villagers hid from the beast. One year, an old man came to the village. On the New Year's Eve, after the villagers escaped, he put red papers up and set off firecrackers to drive off the creature. The next day, the villagers came back to their town and saw that nothing was destroyed. They later found out the old man discovered the Nian was afraid of red and loud noises. It became the tradition the villagers celebrated the New Year wearing red clothes, hanging red lanterns, and red scrolls on windows and doors. People also used firecrackers to frighten away the Nian.
Chinese New Year Traditions and Symbols
New Clothes
The Chinese New Year is a time of change and new beginnings, wearing something new is a symbol of removing the old and welcoming the new. Red is the color for celebrating any happy occasion, as it represents prosperity and good luck.
Lucky Money Red Envelopes
The married people give the Lucky Money red envelopes to children or unmarried adults to bless them with good luck/fortune and happiness/abundance.

Plum and Peach Blossoms
People decorate their homes with fruit blossoms to symbolize a plentiful crop in the new year. Peach blossoms symbolize long life, romance, and prosperity.
Fish
The homophone of the Chinese word 'fish' is the same as the word for 'surplus' inferring more than enough. By hanging up fish decorations or eat fish, people hope the New Year will bring wealth and prosperity.
Tangerines and Oranges
Both fruits symbolize abundant happiness. The homophone of 'tangerine' is the same for the word 'luck' and the homophone of 'orange' sounds the same as the word for 'wealth'. When visiting family and friends, it is a custom to take a gift bag of oranges or tangerines.
Rice-cake — Progression or Promotion
Glutinous rice cake is a lucky food eaten on Chinese New Year's Eve. This is play on words to infer "getting higher year after year." It can imply children's height, rise in business success, better grades in study, or promotions at work.
Sweet Rice Balls — Family Togetherness
The homophone of 'ball' and round shape are associated with reunion and being together. They are favorite food during the New Year celebrations.
I hope you enjoyed finding out something interesting!
Wishing you a
Happy Chinese New Year!
©Miriam Hurdle 2021
About Miriam Hurdle
Miriam Hurdle is a member of the Society of Children's Book Writers and Illustrators (SCBWI). She published four children's books at twenty-six years old. Her poetry collection received the Solo "Medalist Winner" for the New Apple Summer eBook Award and achieved bestseller status on Amazon.
Miriam writes poetry, short stories, memoir, and children's books. She earned a Doctor of Education from the University of La Verne in California. After two years of rehabilitation counseling, fifteen years of public-school teaching and ten years in school district administration, she retired and enjoys life with her husband in southern California, and the visits to her daughter, son-in-law, and granddaughters in Oregon. When not writing, she engages in blogging, gardening, photography, and traveling.
Books by Miriam Hurdle
Read the reviews and buy the books:Amazon US – And:Amazon UK – – Goodreads: Miriam Hurdle – Blog: The Showers of Blessings – Twitter: @mhurdle112
 My thanks to Miriam for allowing me to share posts from her archives… and I know she would be delighted to hear from you.
How you can feature in the series?
All I need you to do is

give me permission to dive in

to your archives

and find two posts to share here on Smorgasbord. (sally.cronin@moyhill.com)
Rather than a set topic, I will select posts at random of general interest across a number of subjects from the first six months of 2021. (it is helpful if you have a link to your archives in your sidebar by month)
As I will be promoting your books as part of the post along with all your information and links so I will not be sharing direct marketing or self- promotional posts in the series.
If you are an author I am sure you will have a page on your blog with the details, and an 'about page' with your profile and social media links (always a good idea anyway). I will get everything that I need.
As a blogger I would assume that you have an 'about page' a profile photo and your links to social media.
Copyright is yours and I will ©Your name on every post… and you will be named as the author in the URL and subject line.
Previous participants are very welcome to take part again.
Each post is reformatted for my blog and I don't cut and paste, this means it might look different from your own post.
If I do share a post which contains mainly photographs I will share up to five and link back to the original post for people to view the rest.
N.B – To get the maximum benefit from your archive posts, the only thing I ask is that you respond to comments individually and share on your own social media.. thank you.